Outside + Bozeman = Oboz
Here at Oboz, we are hikers, we are walkers, we are runners, we are bikers, we are anglers…we are many things, and yet we're all connected on the trail.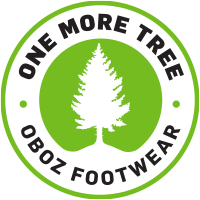 The difference between good and great-fitting footwear is the human touch. That's why it takes 140 talented people to make each pair we sell. Sure it's harder to hand- build footwear this way, but it's the right way.
We carbon-offset our shoe shipments—and then some. We also carbon-offset all employee travel and the office utility bill with the help of the Bonneville Environmental Foundation (BEF).
We also help restore the ecological, recreational, and economic health of critical freshwater ecosystems by purchasing Water Restoration Certificates® (WRCs) from BEF.
And, 100% of our office juice comes from wind, solar, and biomass from northwest Montana and Wyoming, through the E+ Green Power Partnership supported by NorthWestern Energy.
Women's Footwear
Yellowstone Premium Mid Waterproof
Conceived as the perfect boot for Yellowstone park rangers, the Oboz Yellowstone Premium Mid Waterproof full-grain leather waterproof mid, is more boot than most boots ever dream of being.
Great for day hiking but burly enough for a multi-day backpacking trip. Our quintessential hiking bottom package is built to be supportive and protective and features Vibram® Megagrip. If you're tired of feeling rocks and roots underfoot look no further.
Our anatomically-designed insole maximizes stability and support
Oboz ACT (Adaptive Cushioning Technology) Impact leverages Intelligent PU™ to create lightweight midsoles
Built to excel in steep, technical terrain, the Yellowstone boasts a tall collar for high-level ankle support and protection
Men's Footwear
We have a full selection of Oboz Footwear at all three Campers Village locations, and online! Shop all Oboz Footwear